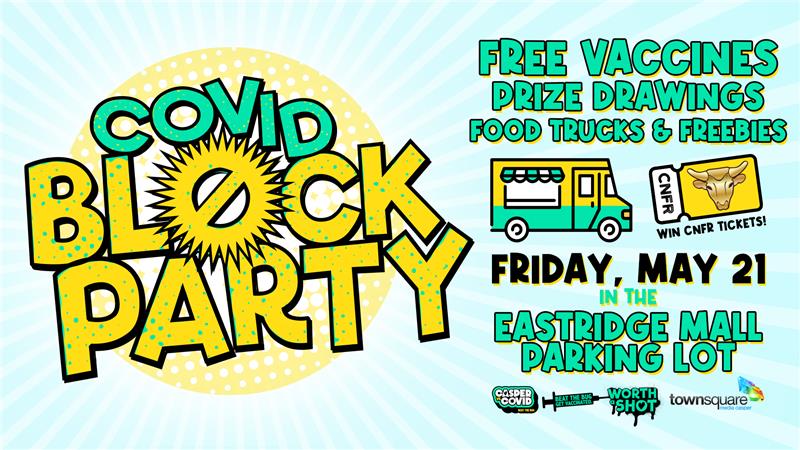 CASPER, WYOMING (May 18, 2021) – The Casper-Natrona County Health Department will host the COVID Block Party vaccination event Friday, May 21, featuring food trucks, discounts, CNFR tickets and other giveaways in the Eastridge
Mall Parking lot.
Local food trucks will be on-site in the Eastridge Mall parking lot at the former Macy's west entrance as CNCHD professionals administer vaccines inside of the COVID Vaccine Center (CVC). Anyone vaccinated that day, or anyone who has already been vaccinated and brings someone to get vaccinated, will receive special discounts to food trucks, receive free CNFR tickets and be entered into ticket giveaway raffles. Anyone 12 and over is eligible to receive a Pfizer vaccine, and everyone 18 and over can select Pfizer, Moderna or the single-dose Johnson & Johnson.
"Beating COVID is a community effort, so we have to fight it together," CNCHD Public Information Officer Hailey Bloom said. "Last year, everything was canceled, and now that vaccines are available and the CDC continues to ease guidelines for vaccinated people, we want Casper to be able to together again. The COVID Block Party is a fun way to fight the disease and have these opportunities to all feel like neighbors again," she said.
Anyone who is vaccinated, or any vaccinated person who brings someone new to get vaccinated, at any location on May 21 will receive a coupon for food truck discounts, free CNFR tickets while supplies last and be entered into a raffle for Foreigner, ZZ Top and Casper Comic Con tickets. In addition to the CVC, the CNCHD will be administering vaccines on-site at the high school state track championships at Kelly Walsh High School and at Art 321.
Casper personality and Townsquare radio host Bob Price will be broadcasting live from the mall parking lot from noon until 2:00 p.m.
"We hated not being able to have CNFR, concerts and events last year, so this is our way of celebrating the return of all of those gatherings that make Casper summers so special," Bloom said.