CASPER, WYOMING (January 22, 2021) – The Casper Natrona County Health Department (CNCHD) follows all vaccination guidelines established by the Center for Disease Control and Wyoming Department of Health guidelines, including priority and definition of essential workers.
After vaccination waiting lists of individuals 70 and over are minimal to completed, the CNCHD will move down into Phase 1B of vaccination efforts. That list is as follows: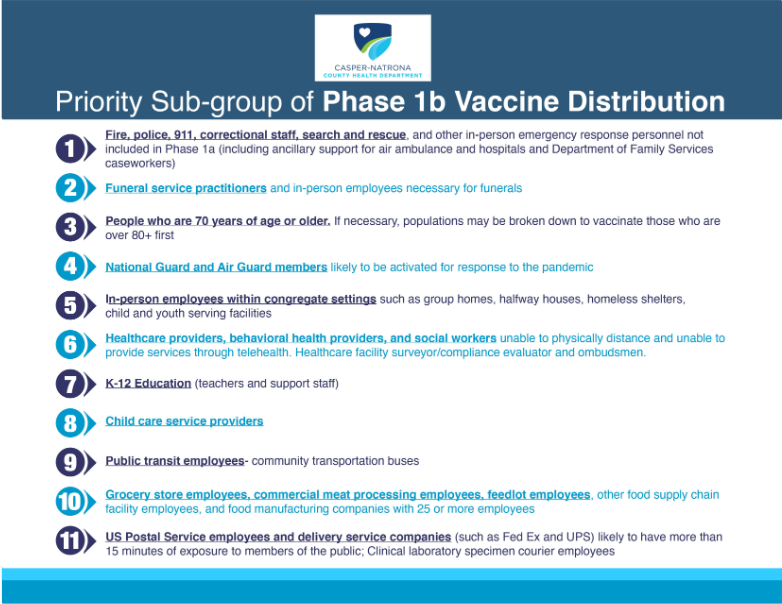 We've had some confusion over the last few days about who is considered 'essential,' especially with food service employees," CNCHD Public Information Officer Hailey Bloom said. "This phase includes food supply chain workers, so people who are responsible for getting food into grocery stores and grocery store employees who can then sell that food to the public. Unfortunately, that doesn't include restaurant employees at this time," she said.
The CNCHD is working hard to distribute as many vaccines as possible to all of Natrona County. Bloom appreciates the community's patience through this period of limited vaccine quantities.
"Everyone in Casper is essential, but because we're facing the shortages that we see now, federal and state official had to make decisions on which groups can receive vaccinations and at what time. We follow those guidelines, but we know the sooner that everyone can be vaccinated, the sooner we'll be able to be healthy, safe and back to normal," Bloom said.
Stay up-to-date on all of the current vaccination news in Natrona County by checking https://casperpublichealth.org/vaccine-information/, https://caspervcovid.com/vaccine/ and weekly videos.
If you are experiencing flu like symptoms or have had direct contact with a known positive case, please seek testing through the Casper-Natrona County Health Department by visiting caspervcovid.com or by calling 307-577- 9892.